SCHÖNBRUNN PALACE TOUR BEFORE DINNER
This tour of the imperial apartments which will take you on a journey through the centuries starts behind a massive door at the top of the Blue Staircase. It begins in the west wing of the palace, with the apartments of Emperor Franz Joseph and his wife, Elisabeth, which are furnished in 19th-century style, and continues through the state rooms in the central wing. From there the tour proceeds to the richly-appointed apartments once occupied by Maria Theresa. The Franz Karl Apartments, which were occupied by Emperor Franz Joseph's parents, Archduchess Sophie and Archduke Franz Karl, conclude the tour. All the rooms in the palace have their own stories to tell, stories on the margins of great historical events which are indicative of the lifestyle, atmosphere and world view of the imperial era.
This Tour is not included in the conference fee and has to be paid separately.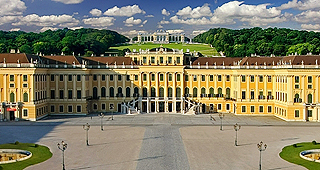 Date: Tuesday, 28 July
Time: 18:15
Duration: approximately 1 hour
Address: Schönbrunner Schloßstraße 47, 1130 Vienna
Place: Schönbrunn Palace
Public Transport: U2 from "Schottentor" to "Karlsplatz", U4 from "Karlsplatz" to "Schönbrunn" – takes approx. 20 min.
Minimum number of participants: 25
Maximum number of participants: 200
Price per person: € 22,00 (bookable at the online registration until 26 June)
Included: guide, admission fee
Map: Please have a look at the map for the respective locations.